Extended QGIS Web Client release 1.6 available on GitHub. with release notes. Main improvements are:
Print user title and description
Print window now contains also fields for user to enter own title and description to insert it into PDF result.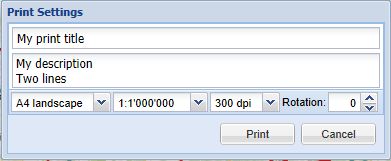 You must prepare print composer in QGIS, it's possible to use also other data like user name or email. How you set this up is explained on Wiki documentation.
Print base layers
This was frustrating problem to many users for not having base map printed together with data from QGIS project. Solution with this release is pragmatic more of a workaround because QGIS server only generates print map from QGIS project. You add base layer also to QGIS project but Web Client will use it only for printing if such layer name also exists in database and is added to project as external layer. More information
More project configuration options
New configuration options were added to database to control each project. Now you can simply enable/disable buttons below with single database click:
zoom navigation buttons (back, forward)
Search combo now also with local data
Search combo can now be configured to use WSGI search on your Postgis data (one or more tables). In next minor release following shortly this will also work on mobile client.

Other
Other changes are listed with release notes on GitHub.